Proud Sponsors of the BCBA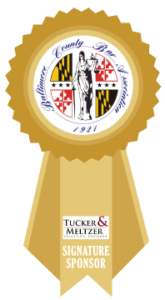 We are pleased to announce our new sponsorship of the Baltimore County Bar Association (BCBA). The mission of the Baltimore County Bar Association is to serve as a leader in advancing excellence, ethical conduct, professionalism and public responsibility in the legal profession. The BCBA proudly serves over 1,700 local attorneys, and provides a dedicated Lawyer Referral Program to the general public that connects individuals with qualified and reputable attorneys to handle their cases. The BCBA is distinct for its closeness as a member organization. The organization is well regarded among other bar associations for its members' high attendance at programs and events, as well as its membership's participation in other local functions. Tucker & Meltzer is one of only ten Signature Sponsors.
Keep an eye out for us at BCBA "Signature" events throughout the year. In particular, their Annual Golf Invitational on June 3, 2012 at Hunt Valley Golf Club will be hosted by Tucker & Meltzer.